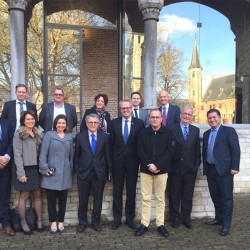 Visit of His Excellency, Mr. Piragibe Dos Santos Tarragô, Ambassador of Brasil in The Netherlands, to the province of Zeeland.
November 26th, 2015. An Official visit of the Brazilian Ambassador took place in the province Zeeland, in the Netherlands, aiming to highlight the good economical practice and diplomatic relationship between these two countries.
The Ambassador, Mr Piragibe dos Santos Tarragô, accompanied by his Senior Trade Attaché Mr. Ivens Signorini Filho were welcomed by the king's commissioner Mr. Han Polman and the Provincial Executive of Economic Affairs, Mr. Jo-Annes de Bat, together with representatives of a selection of important Zeeland companies (including OOS International), to the Middelburg Abbey (The Abbey of our Lady).
The origins of the Abbey go back to the early twelfth century or earlier and was renamed as the "Hof van Zeeland" and taken over for use in the secular administration of the province. In 1812 the former abbey complex became known as the "Province Building" ("Provinciehuis").
During Lunch, OOS International has given a presentation on its good practice in Brazil. Leon Overdulve, CEO OOS International has proudly quoted ´Petrobras confirmed that since the last meeting in October 2015 progress has been made in the management of the contracts and emphasizes that they consider as a success factor the mixture of Brazilian and Dutch employment of management and support personnel in Brazil, the exchange of experience between both teams- and countries- has generated good learning in the operation of the Petrobras's Platforms. ´
OOS International has shown not only our work in Brazil but also our Social Responsibility commitment projects nationally, regionally and overseas, especially in Brazil. His excellency Mr. Tarragô was delighted to hear OOS International goes beyond business relations and enthusiastically confirmed the Brazilian Embassy support and cooperation on extending our business plans in Brazil, inviting our company for a visit to The Brazilian Embassy in The Hague, in the Netherlands, and showed interest in visiting our headquarter in Serooskerke.
Representing Companies to welcome His excellency , Mr. Piragibe Dos Santos Tarragô,
Ambassador of Brazil in The Netherlands:
Mr. J.M.M. (Han) Polman, King's Commissioner;
Mr. J. (Jo-Annes) de Bat, member of the Provincial Executive (economic affairs);
Mr. L. (Leon) Overdulve, CEO OOS International
Ms. A.C. (Ana Carolina) Silva Barni, Communication Advisor OOS International
Mr. J.P.D.M. (Jan) Lagasse, CEO Zeeland Seaports,
Mr. M. (Mario) van Rijt, CEO Verbrugge TerneuzenTerminals,
Mr. P.P.G. (Paul) van Broekhoven BA, Manager Processing en Production Kloosterboer,
Mr. J.D. (Dick) ten Voorde, Managing Director Impuls Zeeland,
Mr. S.J. (Koos) de Groot, manager Economic Affairs and Sustainability, Province of Zeeland;
Mrs. E.M.M.L. (Elise) Blok, staff member Cabinet of the King's Commissioner,
Mrs. I.M. (Ella) Teirlinck, staff member Protocol & Cabinet of the King's Commissioner.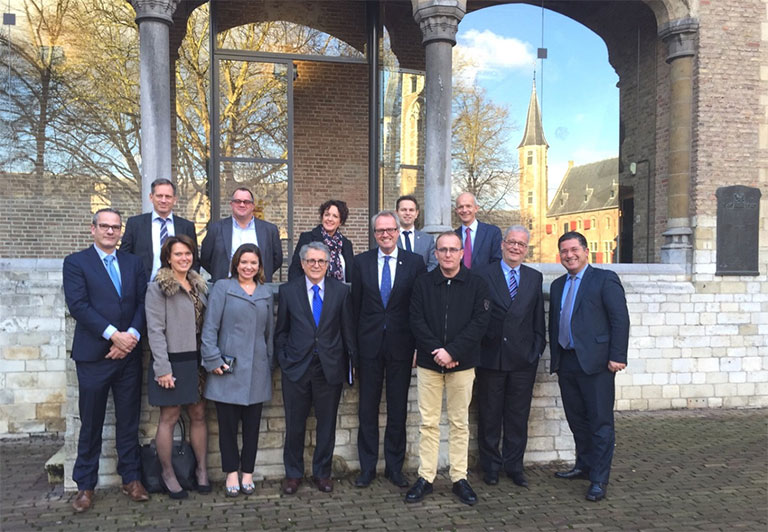 [print_slider_plus_lightbox]
0 Comments
Get In Touch