[:en]Serooskerke, The Netherlands, February 16th 2017
Holding Overdulve B.V. (the parent company of Holding OOS International Group B.V.) has bought itself into Dutch offshore consultancy firm Croes Shipping Services. After 3 years of development together with the best IT experts of Aruban company Stonehenge Webdev, responsible for the design and implementation of inventory application software with an essential data collection as the foundation necessary to build a value chain innovative platform, a new database is almost ready.
The company brings in thousands of active global offshore companies and supporting vessels with detailed profiles and a high-class technology for all users within the industry.
OOS International expands its business model offering primarily supporting services with cloud-based resources to all companies, government and owners within the offshore market.
The new software program announced by OOS International existing of big datasets on offshore support vessels is one of the next generation technologies, which can be used for analyzing and selection of a massive amount of data. Along with being easy to register and use, this program provides a strong security and safe information exchange between chain partners.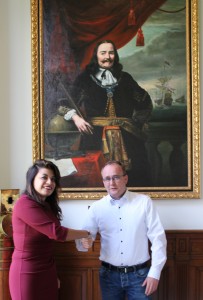 Third party Nedbase, with its immense experience in web and mobile applications and also located in Zeeland, has been contracted as online partner to build a powerful platform, which can be utilized for chartering purposes among others offering advanced units for all offshore transport. All related management and maintenance activities, web design and programming, will be hosted by Nedbase.
Léon Overdulve, CEO and owner of Holding OOS International Group B.V., explains "The Offshore Insights platform, based on the user activities and preferences, maximizes the value of technological investments achieving operational excellence. This will become a virtual knowledge centre, that promotes collaboration between offshore subcontractors and the user community, and thereby increases preparedness and resilience of our society to energy efficient solutions reducing costs locally and worldwide."
OOS International proves its technical developments with a strong innovative character, local and international cooperative power and sustainable solutions once again. Offshore Insights is estimated to be launched by mid-2017. Get a 14-day free trial available on April 17th 2017 to experience the standard tools and features of this platform.
Further information will follow as soon as possible. In the meantime, should you have any questions please contact our Communications Department: Communications@oosinternational.com.

[:]