OOS International is a Dutch owned specialised offshore asset and ship management company which offers a variety of bespoke offshore solutions set to minimise logistical turnaround and costs with regards to simultaneous offshore accommodation and deep sea heavy lift installation. Our versatile and comprehensive team offers a wide spectrum of chartering services, including project management, overall supply chain optimization, planning, analysis and execution.
Our newly built fleet (delivered in 2013) of advanced and high quality semi-submersible accommodation and heavy lift/ construction vessels for the oil industry, are currently chartered by Petrobras in Brazilian waters, and meet the highest standard of requirements and regulations for offshore operations. Our vessels, OOS Gretha and OOS Prometheus, have an accommodation capacity of 618 and 500 persons onboard, and lifting capacity of 3600 and 1100 Tons respectively.
Petrobras has requested OOS Gretha to perform a heavy lifting operation at PGP-1, which has resulted in an exceptional job, since OOS Prometheus is already currently connected to PGP-1, therefore both of our vessels were performing side-by-side. Conjunctively, the vessels are jointly providing a full service with 100% utilization, serving both as floatel and heavy lifting platform. OOS International is currently the largest floatel operator in Brazil with the highest uptime since early 2014.
Campos Basin is the main sedimentary area yet to be explored on the Brazilian coastline. It is comprised of the local areas from Vitória (ES) up to Arraial do Cabo (RJ); more than one hundred thousand square kilometers. The very first oil well with commercial importance which was found in the Campos Basin was the Garoupa in 1974, with 124 meters depth where the exploration platform PGP-1 currently lays.
OOS Gretha was positioned on one side of PGP-1 (illustration below) whilst OOS Prometheus was connected and efficiently operating on the opposite side, not to interfere on the platform's mooring lines.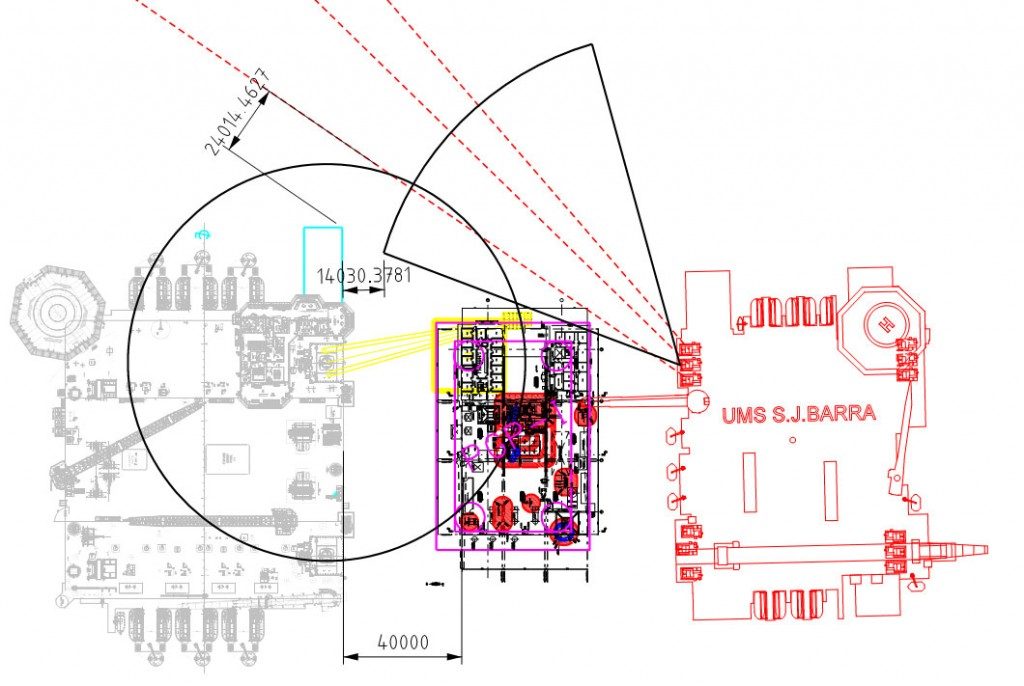 This heavy lifting operation was performed on the 2nd April 2016 and successfully accomplished within 1 hour and 10 minutes by OOS International crew. As positively reported by Petrobras: "The lift operations that were planned to be held this weekend with use of UMCF (OOS Gretha) in PGP-1 (Laboratory Deck) and P-35 (Silencer and rented generator) occurred successfully and according to plan. We appreciate the work and team commitment of CIMC OOS Gretha and Prometheus, so that operations occurred safely and according to plan".